Watch and pray that you may not enter into temptation. The spirit indeed is willing, but the flesh is weak.
Mark 14:38
Like the disciples, I know Jesus. I haven't seen Him in the flesh, nor walked and talked with Him in the flesh like they did, but I know Him. I've witnessed His power and seen some mighty acts of God. And like Simon, I fall asleep all too easily. I get caught up in the busy world of children, housework, meals, bill paying and church… my life becomes full of these necessary things and I not as focussed on the still, quiet voice of God. The problem isn't so much that my life is full or that I lack time. The problem is that I don't stay alert… I don't stay in prayer. I desire to be a part of the move of God, I want to hear from Him. Yet my spirit is willing but my flesh is weak.
It's hard to find the time.
I'm tired.
I'm busy.
I have little children.
I have teenagers.
I have a night owl husband.
I've worked all day
The excuses go on… and on.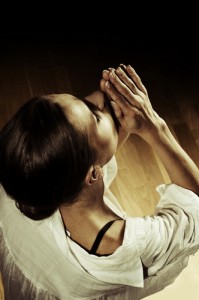 Jesus tells the disciples (and me) to watch…"to keep alert". He tells them (me) to pray – to keep in touch with God via the Holy Spirit. Why? So that I will be able to discern temptation… discern when I am under spiritual attack.
The Spirit Is Willing…
I desire to practice righteousness but I am human. I live in a flesh and blood physical body, which fails me, constantly.
But…
I take comfort in the lives of the disciples… the ones who fell asleep instead of watching and praying. For it was through their failure that God taught them many valuable lessons and revealed Himself to them. And so it is with me. It is during my failures, my weaknesses that I see more of Him and His awesome power and righteousness.
In My Life
I can have all the best plans, good intentions, perfect schedules. But I lack the energy and the self-discipline to see those plans through. My spirit is willing but my flesh is very weak. Like the disciples, this is where I learn the most valuable lessons. It is here that God speaks to me, here that God works through me and in me. Not when I have everything under control for that is usually when I am operating in my own strength. Accepting that my flesh is weak, accepting that I fail is when I turn to Him. And rely upon Him and His grace: trusting and expecting that He is glorified. When I am weak, He is strong. He doesn't want me to work it all out by myself, in my flesh. He wants me to rely upon Him!
Prayer
Father I do thank you for showing me my weaknesses… for it is my weakness that you are strong. Thank you for working in my life and through my failures. Help me to see more of You. Draw me nearer to You Lord, that I may rely upon you for all my daily strength.
Reflection
Remind your children to use their gifts and talents and interests for God's glory and not their own. Share some of your (appropriate) struggles and God's victories with them today.
Are you aware of your own weaknesses? Have you heard the voice of God speaking to you during your weakest moments?
Have you experienced moments of grace, where God has carried you through a weakness?