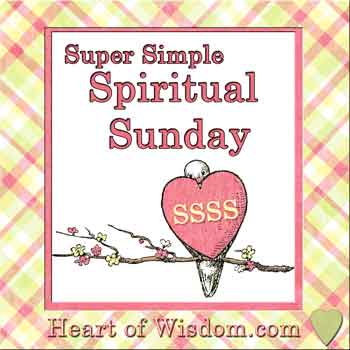 SSSS Blog Meme
Here are a few blogs that I was really touched by or ministered to by this week. They're in no particular order.
Margaret's blog is one of those places where I will usually get a laugh (I don't count on it, but it usually happens). However, after the chuckle has gone I am often left with a deeper insight than before I visited her blog.
Today, Margaret has written about Gomez Addams, from the Addams Family (who doesn't like that show?) being a homeschool advocate. It's funny but there's also food for thought. Don't take my word for it- pop over and visit her. Leave a comment if you liked what you read.
Phyllis wrote about Sowing and Reaping over on her blog. I was encouraged yet challenged by her post.
?If we focus on our needs, we will always be needy,? As I read this to my children this morning I was stopped in my tracks by what a profound statement it is, yet this is often where I find myself stuck.
Sally Clarkson over at Wholeheart Moms always motivates, inspired and encourages me and her post, Getting Back to Basics was no different.
I have pondered, lately, what I observe in many of the children that I meet along the way, how they reflect their mother?s philosophy of education and life. If you don?t start with the end in mine?what you want to see produced in your children?s lives, then you won?t build the right things along the way. I see so many sweet young moms going to these homeschooling fairs and piling themselves up with all sorts of colorful curriculum and work books?and even other moms who think they will accomplish their goals by using videos. Yet, the pioneering spirit of homeschooling, seems to be lost and I see the choice of these materials having an ill effect on so many children.
I purchased an inexpensive ebook to share with my daughters from Sheri Prescott. We have done a few of these type of books before but it has been awhile since our last one so I thought her new ebook looked good. It is!
How To Be a Super Model: A Guide To Inner Beauty. My goal is to encourage and challenge young women to seek Jesus with their whole hearts; modeling their lives after Him.
Well, that's about it for me and the SSSS blog meme. Now that I have participated in one I will make sure I continue. if you have no idea what I'm talking about you can visit Robin's blog for more information.