AussieHomeschoolers…are you ready?

Do you have children aged between 5 and 13 years? Do you love literature? Want to teach Australian Social Studies? Want a resource that also teaches you how to teach in a gentle but thorough way? Then look no further than Down Under Literature's newest resource, Australian Book Traveller!
Inspired by Five In A Row, Michelle has put together an affordable, literature based unit study for Australian Social Studies.
You are the travel guide.
The books are the transport.
The children are the tourists.
The journey is ahead!
Included is
an Australia Traveller's Map Journal (extra maps are available for only $5)
Map Markers
The Australian Book Travellers Travel Guide E-Book (on CD)
The Australian History Notebook ebook (on CD) and
An Australian Timeline Notebook Pages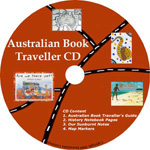 Not included but necessary as the main reference resource is Our Sunburnt Country and the Australian Picture Books. However, these books make a fantastic addition to any family library so it is well worth the money. They're also available from DownUnderLiterature.
You can use this resource with one child or with many. Whilst the core travel books are aimed at children aged 5-9 I know of many older children (and adults) who absolutely love good picture books. Teaching opportunities abound when using picture books! there are even Extension Activities for the slightly older children who don't want to miss out.
Simply add English and Maths to Australian Book Traveller and you have the base for a well rounded primary grade curriculum.
I have used Michelle's products and they are always high quality with plenty of information. Using her products is a breeze as is locating the additional books. I won't say too much more because I really want you to zoom over to DownUnder Literature and check the Australian Book Traveller for yourself.
If you have primary aged children, this is a *must-have* resource in your curriculum library!
(Please note: Michelle of Down Under Literature will be attending the Diana Waring Living Laughing and Learning Conference's in Sydney, Maitland, Melbourne,Canberra and Brisbane … so be sure to take your purse!)