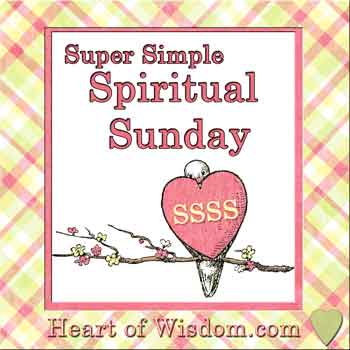 I have not been one to get overly involved with many online meme's but I'm really enjoying Robin's Super Simple Spiritual Sunday meme. Tehee, it's a chance for me to rave on about all the truth-filled, beautiful, inspiring and informing posts I've read during the week. 😀
Last week I included two links that posted about blogging addiction and blogging motivation that I thought were good. If you read them, you'll also want to read Robin's post which I'll link below.
(By the way, all outside links will open in a new tab. Links within my own site will open in this tab. Of course, this only applies with FireFox, SeaMonkey or Opera. Who knows what will happen in IE. 😉 )
1. Robin from Heart of Wisdom posted her thoughts on Blogging Addictions? Blogging Balance?
2. Sally Clarkson wrote on Cultivating Civility
3. Sherri writes on getting back into the home.
4. Fish and Cans writes a thoughtful post on 'Purge the evil person from among you'
5. Robin at HOW writes about a Classical Education.
6. Marianne Miles writes a truthful post that we can all learn from with When Christians Abandon Their Own
7. Dana writes on Beautiful without makeup!
And a few more because I didn't blog last Sunday: