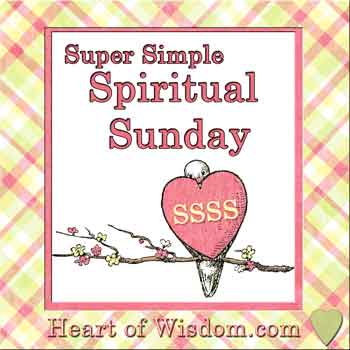 Super Simple Spiritual Sunday Meme is simply a list of encouraging links I have enjoyed this week.
1) If you read my post about Teenage Rebellion, then you will want to read Sally Clarkson's post, 'Suggestions for preventing and helping prodigals'.
2) Those Sneaky Idols over at As The Lord Works
3) Blogging: What's your motivation
4) Leonie on 'Being a Parent of Older Kids'
5) An slpime alipcatoin of a wrod tcrik to rdeanig bliabcl nratveirs
Reading the Scriptures with a view toward the whole story is a post written by Says Simpleton: the sojourn of a simpleton searching for ways to bridge the gap between understanding and articulation.
6) Phyllis Sather recommends Adobe? Digital Editions as an engaging new way to read and manage eBooks and other digital publications in this post.
7) Are you, or your teen, suffering from Teenage Affluenza? This is a great satirical video that reminds us we lead such lucky lives.