The Big Day
For weeks I had told Abigail that she would be better on her big day. Partly because I think positively but also because I thought that some of her sickness might have been caused by stress (working long hours, travelling to see Ian, wedding arrangements, etc.). However, she awoke on the big day; snuffley, blocked up and nasally. It was no wonder she whined at me, "Mum, you said I'd be better by today… and I'm not." And she wasn't. Truth be told she looked down right awful – red puffy eyes, a red nose and coughing every night for the week before the wedding had taken its toll on her. So she dosed herself up on all the right medications, had a shower and we zipped over to the hairdresser to have our locks curled and set.
We forgot to have breakfast. However the bridesmaids came to the rescue. They met us at the hairdressers with a cuppa. Thanks Kate and Rebekah! But not before we forgot Abigail's veil. Yes, we left it at home. Kate and Rebekah had gone to my house and searched my room for it but they couldn't find it. So after my hair was done I popped home, found it and zoomed back to the hairdressers so that they could attach the veil. Meanwhile, my sister-in-law had arrived at our house as she was doing everyone's make-up and the photographer also arrived. Egads, get a move on Susan!
When we (Abigail, Kate, Rebekah and myself) arrived back home it was all systems go! John had set out platters of the most delicious foods: dip, crackers, salami, ham, cheese, chips, carrot sticks, etc. but we were all either too busy or too excited to touch any of it! The guys (John, my Dad, Master J and Master C) managed to get themselves dressed and ready in their spiffy new suits while the girls got made up and dressed and generally fussed around. Such fun!
Ian had organised two FJ Holden's to escort the bridal party. They were a little late as they broke down a few times. Wouldn't have mattered as we were also running a little late. But of course, a bride is never late so we blamed the cars. 😉
Time for the ceremony!
John walked his daughter, Abigail, down the aisle… I know I am a little biased, but she didn't look sick at all. She looked radiantly beautiful. Mind you she matched Ian perfectly as he looked rather dashing too. I thought the ceremony was very sweet. The music was played by a friend who is a professional  pianist. The entrance song was 'River Flows In You' (Yiruma). Throughout the ceremony we sang a few songs: Awesome God, In Christ Alone, Be Thou My Vision. The ceremony matched Ian and Abigail.
Then the bridal party and immediate family left the church and gathered together to congratulate the happy couple while the guests went next door into the church hall for some afternoon tea. There was a lot of Mediterranean food and cakes as well as a coffee machine and barista. Abigail is a barista (and latte artist) and The Coffee Barun, where she works, kindly let us borrow a machine to use for the day.  A fellow barista that she works with attended the wedding as a guest but also kindly agreed to be the barista so it was lattes and cappuccino's all round. We had some champagne and John and Ian gave a speech. It went all too quickly before the photographers were hurrying us out the door.
The photographers did an excellent job. Not only did they photograph the day but they also acted as chief seamstress, corsage dresser, and general helpers. Two fantastic young ladies! However, we had a schedule for the day and we had to stick to it. Just as well they pushed us along as one of the lovely FJ Holden's broke down again, while on the way to the Waite Arboretum for photos. It was all good fun and provided lots of laughter. After our adventures with cars, I think Abigail should be quite used to it all by now.
The parents left the photo session early to allow the couple to finish the session. Our family zipped back to the church to help with the clean up, which was being done by Abigail and Ian's friends. Oh, where would we have been without them? We then zoomed over to Ayers House where we were having a small, private reception in the Ballroom for immediate family and very close friends. By this time, I was ready for bed. I was so tired I could have slept right there at the table.The guests had arrived, the bridal party, minus the bride and groom were also there and we had some pre dinner drinks before their arrival. I loved meeting Ian's extended family, who had travelled over from Sydney. Most of his family are Christians so he has a wonderful heritage. I got on with all his family so well- felt like I'd known them for years.
Hmmm, I received a quick phone call from the chauffeur of bridal car. They were running a little late. The car had broken down… again! Hahaa, love it!
The bride and groom eventually arrived and the food started. A few more toasts and speeches and then I got my second wind. I don't know how but I found some more energy! We all had a few dances and then it was time for the bride and groom to leave.
Kate and Simon (a bridesmaid and best man) had decorated their car… and unbeknownst to them, had gained entrance to their motel room and left them boxes of chocolates. Awww, so sweet.
I didn't cry once. For the whole day. It was the most magical day and I was deliriously happy. Abigail has chosen wisely as Ian is a fine young man who is responsible and mature yet full of energy and life. He is a godly young man who has a heart to serve the Lord and both John and I are happy and proud to have him in our family. Nothing sad about that! I couldn't stop smiling all day. Ok, I'll be honest. I did cry just once. As they drove off from the reception I had a wave of happy-sadness. It only lasted a minute or so. And then tiredness took over again.
What else can I say? A beautiful day, for a lovely couple.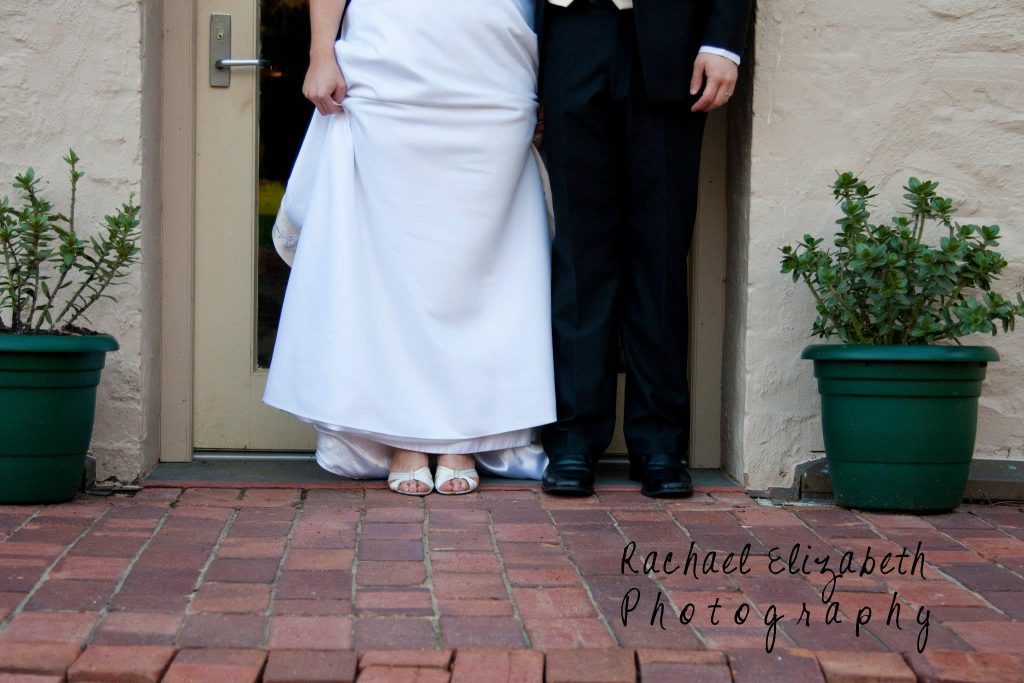 I would like to say a big thank you to all the friends and family who helped to make the day as beautiful as it was. Without their help, it would not have gone so smoothly or been as lovely. I'd also like to say thanks to all the friends and family who came to the wedding to witness the marriage of Ian and Abigail. It was especially beautiful to have a few home-schooling friends there- it made my day! Thanks Katie, Cathy and families.